Your car or truck's AC system is under extreme pressure and the thermal expansion valve or orifice tube monitors the amount of pressure and the temperature of your A/C system. It calculates the precise amount of refrigerant that can safely go into the evaporator. A failing expansion valve or orifice tube often causes a vehicle's air conditioner to blow hot air.
Replace or Repair
Expansion Valves: Too much refrigerant causes your evaporator to get too cold whereas too little refrigerant would result in inadequate cooling. The expansion valve is a complex valve that regulates refrigerant flow. This process of metering the refrigerant adjusts the flow according to the temperature of the refrigerant in the evaporator coil. Talk to one of the pro mechanics at Beyer's Service Center, as this part can be replaced on its own and does not require the entire replacement of the AC assembly.
Orifice Tubes: Unlike the expansion valve, the orifice tube is a simple fixed device with no moving parts. It therefore cannot vary the flow of refrigerant into the evaporator, but rather causes a permanent restriction in the system. However, like the expansion valve the orifice tube regulates refrigerant flow through the system and filters debris which may come through in its screen. Often fixing a "bad orifice tube" requires replacing the entire evaporator assembly.
More AC Repair Services:
Truck and Car AC Repair Services
Freon Recharging Services For Your Car Or Truck
What our clients are saying about us
We have established longterm and stable partnerships with various clients thanks to our excellence in solving their automotive needs!
More Reviews

Always receive great service at a great price. They go out of their way to explain what was repaired & what maintenance might be needed in the future. Always quality service.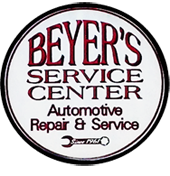 Getting my car repaired here was by far the smoothest experience I've ever had at any auto shop. We had a pricey component go, and after getting estimates at other local shops, an acquaintance recommended we give Beyer's a call. Everyone I interacted with, over the phone and in person, was very friendly and helpful. When I arrived, they even had a homey candle burning in the office and couple of relaxed dogs greeted me on my way in. My car was taken back promptly at the scheduled appointment time, and they finished up the job within their estimated service window just as promised. Rick went above and beyond by looking through all available suppliers and pulling through on a great price for an expensive electronic part. I'll absolutely return here for all future service needs. Pleasant, trustworthy auto repair folks like the team at Beyer's are hard to find! I wish I'd known about them years ago.