Don't neglect your vehicle's electronic systems - trust our experts to repair your vehicle properly the first time around! A poor driving experience can often be related to a malfunctioning computer or driving controls. Come to Beyer's Service Center to ensure your vehicle is in top driving condition.

Our electronic services include:
Check Engine Light
No one likes to see their car's "Check Engine" light come on. The light could mean a costly problem, like a bad catalytic converter, or it could be something minor, like a loose gas cap. At Beyer's Service Center, we can pull the code and diagnose the problem for you. Give us a call at 989-792-8071 or stop by the shop for our expert assistance.
Computer
Today, car manufacturers include at least one computer in motor vehicles. This computer's main function is to monitor and adjust engine and transmission operations. The computer receives input information from different sensors. The computer controls spark plugs, idle speed, and fuel injectors so as to get you the best possible car performance. Failure of the car computer will greatly affect the things it controls. To get the most out of your car's computer, have it evaluated regularly for updates and proper operation. If it is already failing, have it repaired or replaced. To have your car's computer handled by experts, visit Beyer's Service Center in Saginaw, MI 48603 today.
Diagnostics
Mechanics at Beyer's Service Center are able to diagnose all the electronic parts in your car. For expert diagnostics services on your car's electronic devices, visit Beyer's Service Center today.
Drivability
Drivability is the degree of smoothness and steadiness of your car's acceleration. Most modern cars are fitted with on-board computers that continuously check the readings from various sensors. In case of drivability problems, you will receive a warning message on your car's dashboard. To have your car diagnosed for drivability issues, visit Beyer's Service Center in Saginaw, MI 48603 today. At Beyer's Service Center, we have the necessary tools, training, and technology to diagnose and address your car's drivability issues.
Engine Controls
Basically, an engine control system is an on-board computer in your car. Like all computers, the engine controls are composed of hardware and software. Automotive engine control systems are responsible for regulating exhaust emissions, and providing increased fuel economy. To get the best out of your car's incredibly powerful technology, make sure engine controls are working properly. To check if your car's engine controls are working properly, call Beyer's Service Center today.
What our clients are saying about us
We have established longterm and stable partnerships with various clients thanks to our excellence in solving their automotive needs!
More Reviews

Always receive great service at a great price. They go out of their way to explain what was repaired & what maintenance might be needed in the future. Always quality service.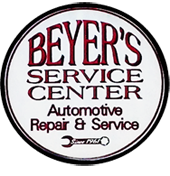 Getting my car repaired here was by far the smoothest experience I've ever had at any auto shop. We had a pricey component go, and after getting estimates at other local shops, an acquaintance recommended we give Beyer's a call. Everyone I interacted with, over the phone and in person, was very friendly and helpful. When I arrived, they even had a homey candle burning in the office and couple of relaxed dogs greeted me on my way in. My car was taken back promptly at the scheduled appointment time, and they finished up the job within their estimated service window just as promised. Rick went above and beyond by looking through all available suppliers and pulling through on a great price for an expensive electronic part. I'll absolutely return here for all future service needs. Pleasant, trustworthy auto repair folks like the team at Beyer's are hard to find! I wish I'd known about them years ago.