Know Your Rights

Dealing with the stress of a collision is hard enough without trying to figure out how your accident insurance works. Here are some answers to frequently-asked questions about insurance policies.

Will the insurance company guarantee your work?

We guarantee our own work, but the insurance company does not have the legal right to guarantee a third party's work.

Who pays for repairs?

It depends on the circumstances. If you were at fault, but have comprehensive or collision insurance, the insurance company would pay the costs minus your deductible. If the other party was at fault, their insurance company should pay.

Do I have to accept the insurance company's appraisal of damage?

No. Check the "Appraisal Clause" in your policy if you have differences with their appraisal. It allows you and the insurance company to gather an opinion from an appraiser you both agree upon, or a third-party "Umpire" if you cannot agree.

Do I have the right to a rental car?

If you have purchased rental car coverage and were not responsible for the accident, you may seek reimbursement from the insurance company or, if another driver was responsible for the accident, their insurance company.

If you do not have rental car coverage and were responsible for the accident, you have no grounds to ask for reimbursement. If the other driver was liable, you can generally seek reimbursement from their insurance company.

Want more information on your rights? To make an appointment, call us at 989-792-8071 or make an appointment online!
What our clients are saying about us
We have established longterm and stable partnerships with various clients thanks to our excellence in solving their automotive needs!
More Reviews

Always receive great service at a great price. They go out of their way to explain what was repaired & what maintenance might be needed in the future. Always quality service.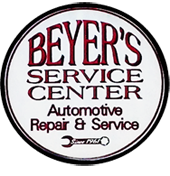 Getting my car repaired here was by far the smoothest experience I've ever had at any auto shop. We had a pricey component go, and after getting estimates at other local shops, an acquaintance recommended we give Beyer's a call. Everyone I interacted with, over the phone and in person, was very friendly and helpful. When I arrived, they even had a homey candle burning in the office and couple of relaxed dogs greeted me on my way in. My car was taken back promptly at the scheduled appointment time, and they finished up the job within their estimated service window just as promised. Rick went above and beyond by looking through all available suppliers and pulling through on a great price for an expensive electronic part. I'll absolutely return here for all future service needs. Pleasant, trustworthy auto repair folks like the team at Beyer's are hard to find! I wish I'd known about them years ago.